Mattie Thomas was born in Marion, Alabama on July 7, 1896. Her parents were Reverend and Mrs. Samuel Thomas. During the course of her life, Mrs. Blount made her mark on education in the Prichard community. Her personal goal was to seek higher education and to encourage and guide boys and girls to advance in education.
Mattie T. Blount High School was established in 1953 as a junior high school known as the Engine Street School. In 1956, the Prichard community, represented by the Engine Street PTA, requested that the Mobile County Board of High School Commissioners change the school's name to Mattie T. Blount High School in honor of this dedicated and accomplished educator. In August 1956, the request was granted and students entered the newly titled Mattie T. Blount High School. After almost 50 years, the school moved into its current facility in 2005.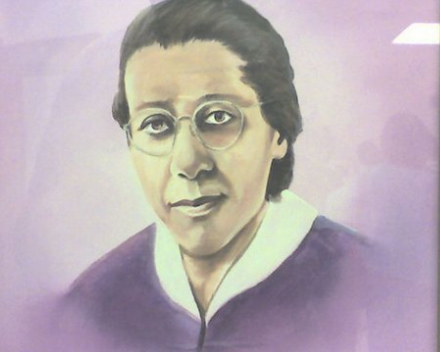 Our facility has 73 classrooms and can accommodate 1,400 students. We have a state of the art auditorium with a seating capacity of 774. In the 2013-2014 school year the academic direction shifted to improve the quality of education for BHS students. It was at that time the first of four academies were established—the Academy of Allied Health (Clinical Services) Entry and Advanced. In 2014-2015 three other academies were implemented: the Academy of Business Management Administration, Information Technology, Marketing Sales & Promotion; Academy of Human Services and JROTC Leadership; and the Academy of Construction, Manufacturing and Transportation (FCTC).
The football facility includes seating for 6,500 attendees as well as two full concession areas, official rubberized track, press box, and areas for long jump, pole vault, and discus throwing. The gymnasium has a full size regulation basketball court which includes a seating capacity of 2,700, three regulation volleyball courts, training rooms, weight rooms, and boys and girls locker rooms. In 2013 a Fieldhouse was added next to the stadium.
The mission of the faculty and staff of Blount High School is to develop a literate, self-disciplined, and productive member of society by utilizing an effective, caring, and dedicated faculty and staff offering students students a variety of learning experiences within a safe environment conducive to learning.
The vision of Blount High School is to graduate all students college or career ready.
Dear Blount High, we love thee: Our hearts are open wide, To honor and cherish thee, And to hold our standards high. Alma Mater, we love you Your campus beauty green; Within your walls of wisdom Our hearts will always lean.
You gave us the guidance That will always lead us through; We'll ever remember you In all we say and do. Dear Blount High, we'll uphold thee, The purple and white so true Our spirit and vitality Will always live for you.